Somertyd en vakansiedae

Die horlosie gaan 'n uur vooruit op Sondag die 25ste Maart en Die Spens is dus weer oop tot 5 uur op Saterdae vanaf die 31ste Maart.

Paasnaweek voel nogal vroeg die jaar. Ons is wel oop op Goeie Vrydag 30 Maart (5nm tot 8nm) en Saterdag 31 Maart (10vm tot 5nm). Geniet die bietjie af wees, pas net op vir die chaos by die meubelboulevard op 2de Paasdag :-)

Die Koningsdag in plaas van Koninginnendag voel nog vreemd, maar die plesier is dieselfde! Ons is toe op die dag - Vrydag 27 April, maar is wel oop op Saterdag 28 April soos gewoonlik (10 tot 5).

Soos ons gereelde klante al weet, die invoer van sjokolade en ander melkprodukte uit SA is ietwat van 'n probleem. Dit beteken dat ons hierdie jaar glad nie die gewilde Beacon Paaseiers kan inkry nie. Glo my, dit maak ons net so seer as vir almal wie se gesigte so val wanneer hulle die slegte nuus hoor.
---
Nuwe Produkte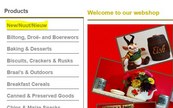 Ons het 'n ekstra kategorie "New/Nuut/Nieuw" op die webwerf toegevoeg.

Tussen ons meer as 500 produkte is dit soms moeilik om nuwe items raak te sien. Om hulle bietjie uit te lig kan dalk help, gaan kyk gerus wat ons, in die laaste tyd, nuut ingekry het.

---
Daylight saving and public holidays

Summer time starts this Sunday the 25th of March, which means that Die Spens will be open again till 5pm on Saturdays from the 31st of March onwards.
We will be open this Easter, Good Friday the 30th of March (5pm till 8pm) and Saturday the 31st of March (10am till 5pm). Enjoy the break, just be careful of the chaos at the "meubelboulevard" :-)

This year Kingsday is on a Friday and we will be closed on the 27th of April. We will however be open as per normal on Saturday the 28th (10 to 5).

As our regular customers would have noticed, the import of chocolates and other products containing dairy from SA is a bit of an issue at the moment and unfortunately we will not have any Beacon Easter eggs this year. We know, we share the disappointment that we see when we tell the bad news.

---
New Products
We have added a category named "New/Nuut/Nieuw" to the website. We understand that it can be difficult to notice new items amongst the more than 500 products that we regularly carry. We hope that this will help a bit to identify them, feel free to have a look at what has been recently added.
---